Be om et besøk av misjonærene
Vi vil kontakte deg for å avtale et tidspunkt da vi kan komme innom, dele et oppbyggende budskap og besvare dine spørsmål.
Takk. Du hører fra oss.
Vi ser frem til å snakke med deg. Vi vil kontakte deg i løpet av de neste 24 timene for å sette opp en avtale.
Error: Form could not be submitted at this time. Please try again or refresh the page to start over.
Hvordan kan misjonærene hjelpe meg?
Selv om ditt forhold til Gud kan være svært personlig, trenger vi alle noen ganger litt hjelp med å oppfatte hva Gud sier til oss. Uansett hvor du befinner deg på din åndelige sti, kan misjonærene undervise om evangeliets prinsipper og innsikt som kan hjelpe deg på veien. Tenk på dem som åndelige veiledere som vil:
Hjelpe deg å føle deg nærmere Gud
Vise deg hvordan du kan be og motta svar fra Ham
Hjelpe deg å finne svar på dine åndelige spørsmål
Undervise deg om Frelseren Jesus Kristus og hans evangelium
Hjelpe deg å forstå Skriftene
Støtte deg gjennom dine personlige utfordringer
Oppmuntre deg i prosessen mot omvendelse, tro og dåp
Introdusere deg til et samfunn av likesinnede troende som kan fortsette å støtte deg på din åndelige reise
Hva du kan forvente deg når misjonærene kommer på besøk
Misjonærene vil be om å få innlede besøket med en bønn. Hvis du føler for det, vil de kanskje be deg om å holde bønnen. Uansett er målet å innby Den hellige ånd til å være en del av samtalen.
De vil sannsynligvis bruke noen minutter til å bli kjent med deg og dine interesser. Misjonærene har et helt program de kan undervise deg i, men de prøver å tilpasse sitt budskap til deg og din livssituasjon. De vil lese fra Bibelen og Mormons bok sammen med deg og innby deg til å be og spørre om det de underviser er sant.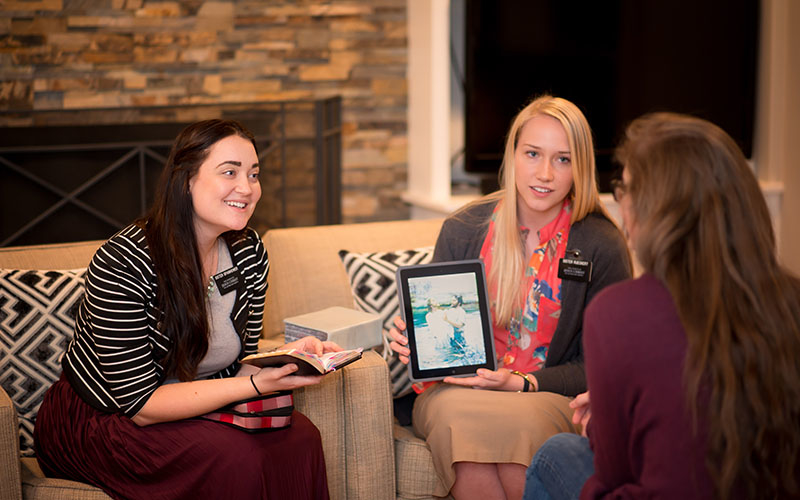 Hvis du vil, setter misjonærene opp en avtale for et nytt besøk. Under oppfølgingsmøtet vil de undervise deg mer om Jesus Kristus og hans gjenopprettede kirke, og besvare de spørsmål du måtte ha. Deres program innbefatter også budskap om Guds plan for vår lykke, Jesu offer for oss, tro, omvendelse, dåp, Den hellige ånd og å holde Guds bud. De vil fortsette å innby deg til å be, lese Mormons bok, gå i kirken og til og med bli døpt. Husk at misjonærene vil tilpasse seg ditt tempo og respektere din tid og ditt ønske om å møte dem igjen eller ikke.